Are you looking for a good and impressive family car? You can take a look at the Honda Civic. This vehicle has a lot of fans who love driving this car. It is one of the most popular cars from Honda. This car also receives a lot of awards from some popular communities, for example, 2020 best buy compact car from Kelley Blue Book and 2019 Most Wanted Award from Edmunds. These awards show the overall quality and performance of this Honda Civic vehicle. This model has a lot of features to offer to all customers, so you will enjoy your time when driving with this model.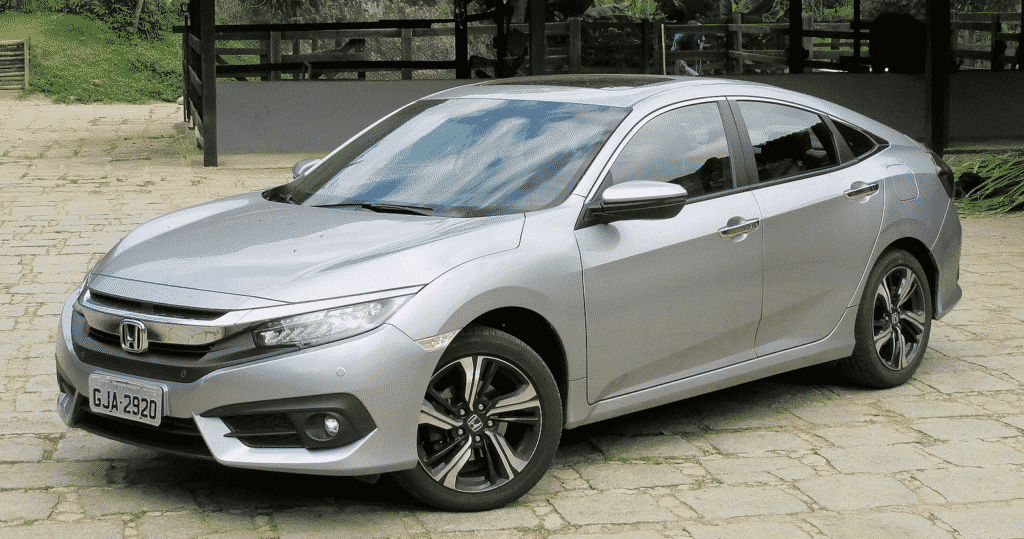 Car Specs
The latest 2020 Civic Sedan has refined features and aggressive lines for making it stand out from the competitors. It has a signature C-shaped taillights, sleek design, and also a bold sport trim at the outside part of this vehicle. These features can create a fierce personality from this model.
This Honda Civic is very suitable for you who are looking for comfortable seating and driving experience. It has a spacious interior space with five seats. Its intuitive instrument displays allow you to get access to your favorite entertainment from this vehicle. This car is specially designed with your comfortable driving experience in mind.
This car has a lot of useful modern and advanced technologies for helping you enjoy your driving experience with this car. You can discover some smart tech details inside this car, for example, Apple Car Play, Satellite-Linked GPS Navigation System, Honda Lane Watch, etc. You will be able to use all of these modern technologies for supporting your driving experience.
History of The Car
Honda introduced the first generation of Honda Civic as a 3-door vehicle. Its wheels were about 12 inches in diameter. This vehicle also has radial tires, two-speed automatic transmission, air conditioning system, and also rear hatch wipe. This first generation was introduced around 1973. One year later, Honda increased the capacity of the engine for up to 1237 cc engine. The horsepower produced from this vehicle was up to 52 HP. With all of these features, Honda was able to sell up to 43,000 Civic units in 1974.
In 1975, Honda introduced a new CVCC engine or Compound Vortex Controlled Combustion. This engine had a powerful head and fuel-delivery system, to deliver a clean combustion process. Then, Honda company also introduced a new 5-speed manual transmission to this car version. The Honda Civic was ranked first as the most fuel-efficient car in 1977. At the end of this year, the sales of Honda Civic could reach up to 100,000 units yearly.
Honda also improved some features in this model. In 1988, the Honda Civic vehicle had a new engine system and also soft shape. Many buyers were interested in buying this model because of some new features, such as power windows, mirrors, locks, and also intermittent mirrors. This model had a new fuel-injected engine that could produce up to 92 HP. There was also an additional control-arm suspension setup for creating a safety feature in this model.
In 1994, Honda company added some safety features on the Honda Civic model, such as anti-lock brakes, passenger-side airbag, cruise control, etc. All of these features were added to the 5th generation of Honda Civic. Only a few minor changes were added to this version of Honda Civic compared to its previous version.
How Common It Is
Honda Civic is very popular among many people in the world today. There are some versions of Honda Civic produced by this company, for example, Civic Coupe, Civic Si Coupe, Civic Sedan, Civic Hatchback, and Civic Type R. It is very common to see any of these version of Honda Civic on the road today.
Value of the Car as Junk
Once you are ready to sell your old Honda Civic, you need to know the average value of this car as junk. You can compare all available junk car buyers on the market today. Most of them usually offer about $100 to $400 for buying old and junk Honda Civic. Once you are ready to get an instant offer by selling your Honda Civic, you can contact us at Junk Cars New England. Our experts will come to your place for giving you cash while towing your Honda Civic without additional costs.